In recent years news agencies have come to rely on satellite photos when reporting on otherwise unreachable locations. This interesting trend shows the increasing importance of remote sensing. News services are now regularly publishing images like the one below when reporting on developments at axis-of-evil nuclear sites.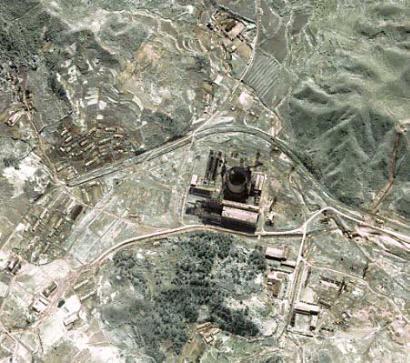 Taechon reactor, North Korea

You can find a gallery of such published photos at Global Security's Picture of the Week site. Images include both closeups like the Taechon photo and larger scale like a photo of the blackout last year.
Originally there was only one public sector satellite capable of ground-level photos, Ikonos. This satellite which is a commercial version of the secretive Keyhole satellites used by the US military. Ikonos is controlled by a firm called Space Imaging. They charge prices starting at hundreds of dollars but offer lower deals in some cases to reporters. Ikonos now has several competitors including the new Orbimage satellite. Hopefully this will bring prices down but it still costs hundreds or thousands of dollars.
There is some satellite imagery available for free or low-cost though. Here is a list:
USGS DOQ - digital ortho photos of the entire US <$100
GeoGratis - Canadian LandSat7 (free)
EOS - NASA has a bunch of satellites (some free)
MrSid - Nasa global cover (free), see article
Earthview - a free service
Digital Earth - Cornell's earth science center
TrueEarth - commercial service with nice free coverage
Aster - the JPL's main satellite, some free
Earthkam - NASA photos from the ISS

If you are looking for global coverage my product, the OPeNDAP Data Connector, is an excellent tool. It can directly access MODIS, AQUA, TERRA and other resources including many meteorology data sets.
Our view of the earth just keeps improving.